About this Guide
This guide is intended to walk administrators through the process of saving scheduled reports to a repository rather than receiving them via email.
Initial Setup
In order to save scheduled reports to a repository, a report path must first be set in the Scheduler configuration file. Navigate to the Scheduler install path and locate the configuration file entitled eWebReportsScheduler.xml.
Note: This XML file must be properly configured before Scheduler services can function as intended. For more on configuring your Scheduler see the Scheduler Configuration article.
In the configuration file add the <report path> parameter if it does not yet exist and set the location of the repository. In the example above, a local directory is set.
After configuring the Scheduler, navigate to the Admin Console and set the Email Scheduled Reports setting to False.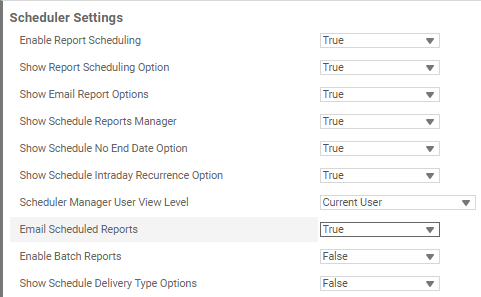 After applying this setting, all scheduled reports will be saved directly to the specified repository rather than being sent via email.
Additionally, you may choose to enable the Show Schedule Delivery Type Options setting. If enabled, it will allow users to select whether to save a scheduled report to the specified repository or to send it via email it instead.
For more information on scheduling reports see the Scheduling a Report article.