Configuring the database metadata can be done within the Exago Administration Console. These bullets detail the terms used in Exago that are consistently referred to in both the guides and the application.
Data Source refers to a database or similar programmable file.
Tables, views, functions, and procedures are stored as Data Objects (also called Entities) within Exago which can then be connected using Joins.
Exago can automatically discover metadata from traditional databases (MsSQL, MySQL, etc.)
Data Sources
Add a data source by entering the Administration console http://<YourServer>/Exago/Admin.aspx
 In the Main Menu click the Data dropdown and select Sources.
Add a Data Source by clicking the Add button ().
Give the source a name in the Name row.
Select the intended type of data source in the Type row. In addition to traditional db's, Exago can consume data from OBDC sources, Web services, and .NET assembly files.
In the next row enter the Connection String. Connection strings vary according to database and data connector. .NET assemblies, web services, and files use the following connection strings:
Assemblies - Assembly=C:\PATH\DLL_NAME.dll;class=ASSEMBLYNAME.NAMESPACE
Web Services - url=http://HOSTNAME/PATH/SERVICENAME.asmx?OPTIONALPARAM=VALUE
Files - File=C:\PATH\FILENAME;Type=FILETYPE where FILETYPE is 'excel', 'xml', or 'excelXml'.
Verify the connection to the database using the green check, if the source is through a connection string or non-RDBMS data source.
Click OK to save these changes.
Building Metadata
Multiple Data Objects and joins can be created at once via Exago's automated Discover Database Metadata function.
In the Admin Console (http://<YourServer> /Exago/Admin.aspx), select the desired Data Source to build metadata.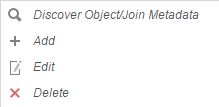 Click either the Discover Database Metadata icon( 

 ) or right click the source name and select Discover Object/Join Metadata, as shown on left.
The fields that appear with checkboxes associated to them (Tables, Views, Functions, Procedures, etc.) represent all the Data Objects.
Note: Items with a () next to their checkbox, are incomplete items.
To add this metadata to the existing setup, use the Select All Objects button, Select Complete Objects button, or manually check the desired items. Examples of these options are below.

Finalize the selections with the Add Objects or Add Objects and Joins options.
Note: Incomplete items that are added to the Data Source will require completion of the fields before adding them. If the data source does not have the metadata set, it is possible to complete this process manually. Please reference the Joins and Data Objects articles for more information.
Verifying the Report Path
In the Main Menu open the General drop-down and double click Main Settings. The first parameter in Main Settings is the Report Path.
Make sure that the Report Path is pointing to the folder where read/write permissions were set earlier.
Check this connection by clicking the green checkmark.