Automatic Database Discovery enables you to quickly and easily add many Data Objects and Joins from a single Data Source. Discovery can only be performed on the following database types: mssql, oracle, mysql, postgresql, db2, and Informix.
To start using Database Discovery, select a Data Source and click the Discovery button (
). This will open a discovery tab for the Data Source.
In the discovery tab you can do the following:
Select the Tables, Views, Functions, and Stored Procedures you would like to add by either checking individual boxes or pressing 'Select All Objects' or 'Select All Complete Objects'.

Note. Objects with identified unique key values will have a key icon () next to them and objects with associated joins will have a join icon () next to them.
Set any missing Unique Key fields by right clicking on an object.
Check 'Preview Only' and then 'Add Objects' to preview the selected objects and joins.
Add the selected Data Objects by pressing 'Add Objects'.

Note. If any selected Objects are missing unique key values they can be completed individually in a new tab entitled 'Incomplete Objects'.
Add the selected Objects and any associated Joins by pressing 'Add Objects and Joins'.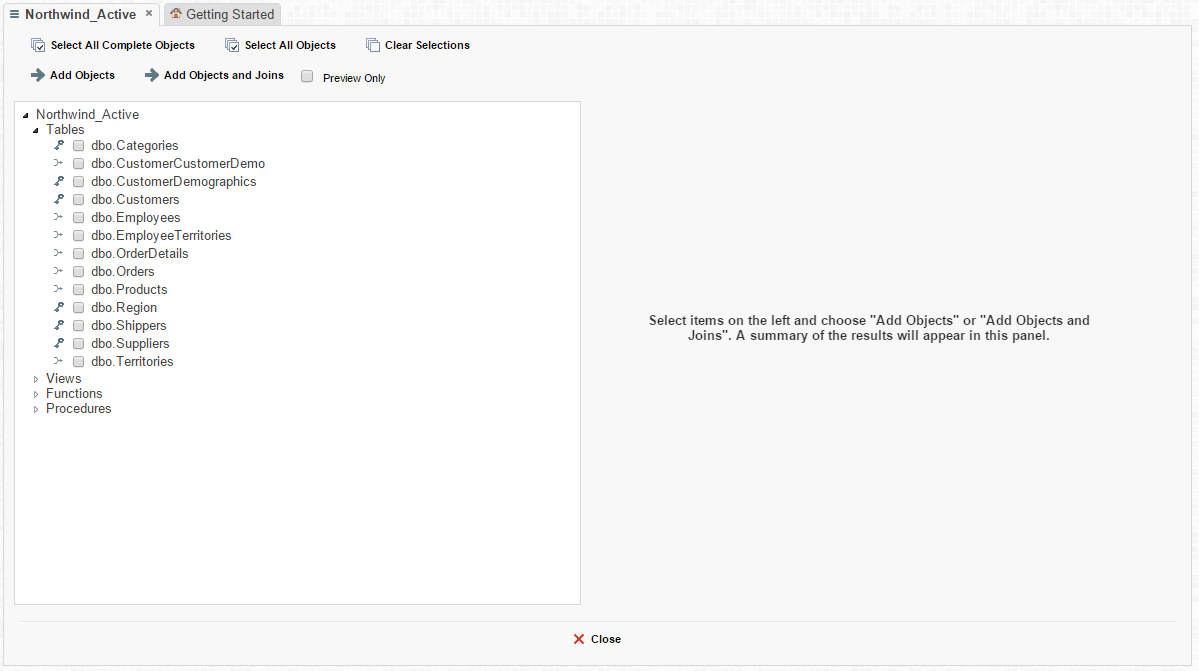 Customizing Data Discovery SQL
(v2016.3.6+) The SQL used for Automatic Database Discovery can be customized if necessary, in order to accommodate non-standard key names.
To customize the discovery SQL, locate the file dbconfigs.json in the Config/Other folder in the host application's install directory, and open it in a text editor.
Locate the property for your data source type and edit the SQL for either or both primary and foreign keys. Save the file, then run Database Discovery to see your changes.

Note. Data discovery is not currently supported for ODBC data sources.