If given permission by your administrator the User Preferences button will appear in the top right corner. Click the User Preferences button

 to open the User Preferences menu.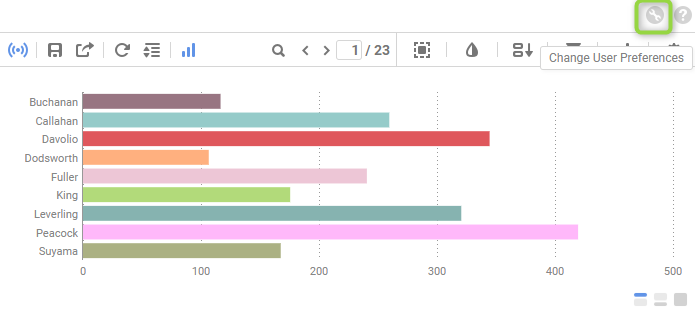 Startup Reports
In the User Preferences menu set your preferences such as which reports should run at startup and/or what User Reports should be applied.
To execute a report on startup either drag and drop it to the 'Report Name' panel, use the 'Add' button or double-click it.
To disable a user report click the delete button ().

Context Sensitive Help
Context sensitive help is available at any point in the application. Click the help button

 and documentation will appear in a new tab. The guide will automatically open to the section discussing the feature you are using.

Tutorials
Disable or enable ExpressView Tutorials and Hints in the User Preferences menu (2018.2+).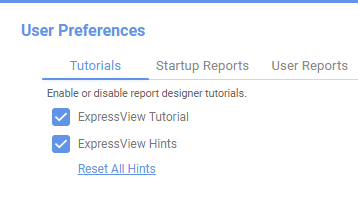 The tutorial guides you through the creation process for ExpressViews through a series of popup windows. You are given the option to skip the tutorial when it begins, as well as the option to disable the tutorial in the future when it is complete.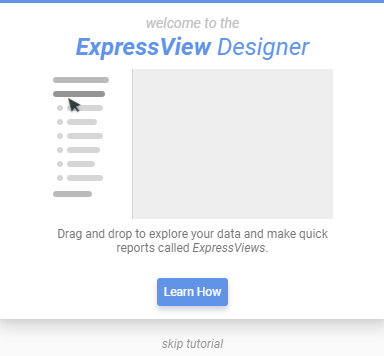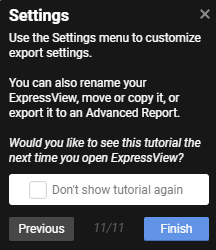 When hints are enabled, a hint will display after you take certain actions. Once you have seen a hint it will not display again unless hints are reset. 
Reset All Hints within the User Preferences menu to view all hints again.