If the "Debug Password" is set in Other Settings of the Administration Console, a client will have the ability to submit Debug Packages automatically to Exago, Inc. via the internet. The client will need to select the report that they are having a problem with and press Ctrl+Shift+X. This keystroke will bring up the Debug Package submission window. The user will then be required to enter the "Debug Password", Company Name, and a description of the problem they are experiencing.
NOTE. The Debug Package consists of the same files that are created via "Enable Debugging," which is also located in Other Settings of the Administration Console. These files are encrypted, and then sent to a Web Service that resides at the Exago Support site.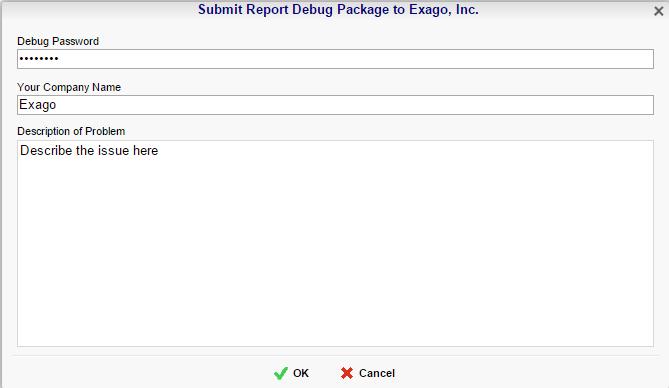 To send a Debug Package to Exago Support:
From the Main Menu, select the problematic report.
Press Ctrl+Shift+X.
In the Submit Debug Package window, enter the debug extraction password (this is set in Other Settings), company name, and a description of the problem.
Click the 'Ok' button.
Fill in any information for Parameters or Filters if they are set for the report.
A success/failure message will display when the process finishes.
Manually Creating a Debug Package
If submitting a debug package fails then you can set 'Enable Debugging' to True in the Other Settings of Administration Console to manually create the files needed for debugging. These files can be zipped and directly attached to a ticket request.
NOTE. Before creating a Debug Package verify that 'Enable Remote Report Execution' in Scheduler Settings is set to False.
To manually create a Debug Package:
Create the folder Debug where Exago is installed. Make sure this folder has the same read/write permissions as the Report and Temp Folders.
Set 'Enable Debugging' in Other Settings to True.
Execute the problematic report. A copy of the report, the configuration settings and a data set will be created in '.\Debug'.
Zip these three files together and attach them to your next response to your request.