Logging In
Navigate to the Exago Support Center
In the sign in box, enter your email and password. If you do not currently have an account, please contact your Exago administrator 


Once you have successfully signed in you will be directed to the Exago Support home page.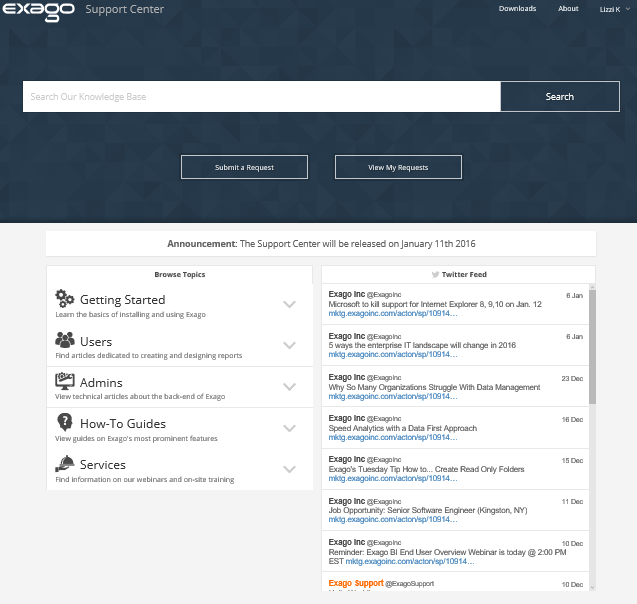 Submitting a Request
Select the 'Submit a Request' button underneath the search bar.
In the Submit a Request dropdown there are three options:
NOTE. Click on the links above for additional information about filling out these forms.
Viewing My Requests
Select the 'View My Requests' button underneath the search bar.
Once clicked, the 'My Requests' page will display with a summary of tickets that you have submitted. To view all of the submitted tickets from your organization, click on the 'Organization Requests' tab.
Clicking on the ticket allows you to view the ticket details. From here you will be able to see replies from the Exago agent assigned to your case.
To see the details of your ticket, click the link specified in the box below.
To reply, enter your response in the textbox provided in the ticket and press the 'Submit' button when finished.
Reporting a Site Issue
Click on the "Report Site Issue" button at the bottom right-hand side of the page.


In the form, please fill out the following fields:
Subject
This is a synopsis of the issue. Example: 'Submit a request' button on Exago Support home page is not working'

Description
This is where you'll provide additional details that will help us find and identify the issue. If the issue is browser-specific, please include the affected browser(s). If you are viewing the site on a mobile device, also include this information in the description.

Your Exago Environment
This is required by our system and has no effect on the investigation of this issue. It is important to know this, however, for our own internal purposes, and will aid in the investigation of all current and future issues.

Attachments
If reporting a formatting issue, screenshots are helpful and can be added by pressing the button at the bottom of the form.

Finding the Latest Exago Downloads
Click the 'Downloads' link on the top right-hand of the screen

The downloads page will display the most recent application installers and Exago Technical/User Guides.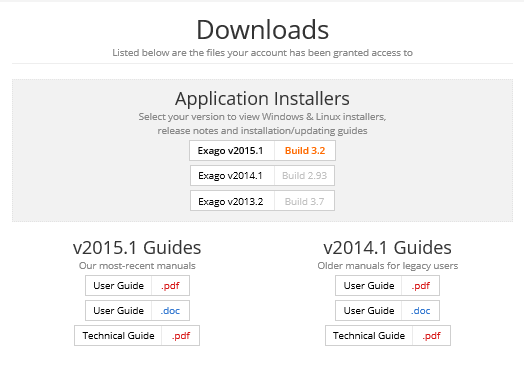 If you are unsure whether you have access to the application installers, please contact your organization's administrator. If you are the administrator, user permissions can be updated by contacting Exago Support.