We highly recommend using a state server to manage Exago sessions. Often, the cause of timeout problems is related to not properly managing session state.
You can create a state service on the same server as the Exago application, or on a different one. This guide will explain how to do so using the ASP.NET State Service which is built into Windows.
Setup ASP.NET State Service
First, enable the State Service. On your state server, press Start > Run, type services.msc, and press OK.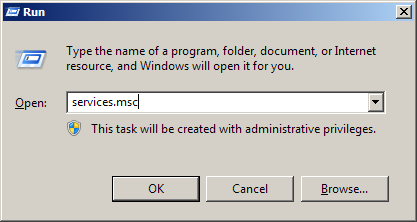 Locate the ASP.NET State Service and check the Startup Type property. If it is not set to Automatic or Automatic (Delayed Start) then you have to enable the service.

Right-click on it, and select Properties.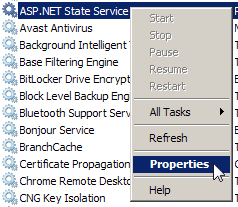 Change the Startup Type to Automatic, and press Apply. Then press Start.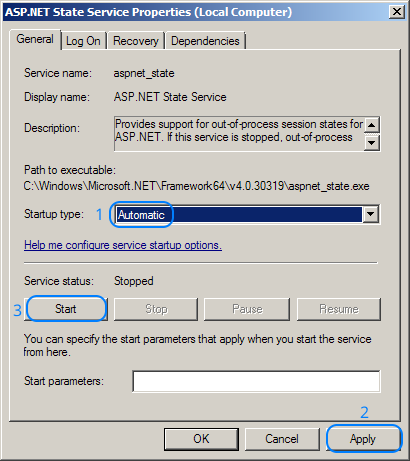 If your state server is on a network, make sure you have allowed inbound connections to the state service on a port.
Configure the Web Server
To configure your web server to use the state service, open IIS, then in the left-most Connections pane, locate and select your Exago application.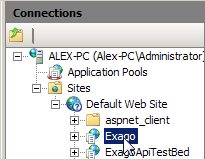 Double-click on Session State.

Select the State Server setting, and input the server port and a desired timeout value.
Note: Windows' built-in State Server runs on port 42424 by default. It is suggested that this port is used for the configuration of the State Server. However, if preferred, this may be changed.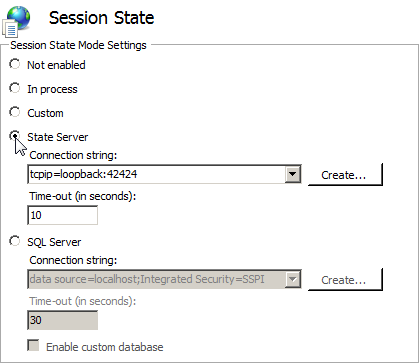 Finally, in the right-most Actions pane, press Apply.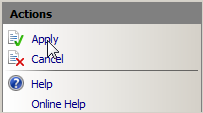 After applying these settings, the web server should be fully configured. For more information regarding state servers, please see the Additonal Info section below.
Additional Info
For more information about out-of-process session state, see the following external links:
For personalized assistance, please file a support ticket.